The Kansas City Chiefs Defense: A Lesson in Dominance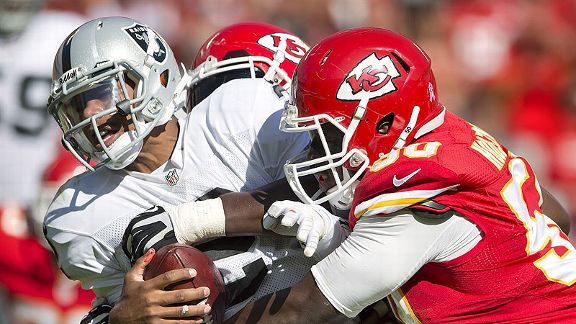 Whoever said that defense doesn't win games has obviously never played a football game against the 2013 Kansas City Chiefs and their defensive coordinator Bob Sutton. Andy Reid has brought in with him a new winning culture and a much better coaching staff which has turned the Chiefs defense into a monster that cannot be stopped. If you're a Broncos fan or just someone who is a non-believer in my Chiefs let me drop some statistics that will change your mind.
In yesterday's game the Chiefs had 10.5 sacks. The total sacks on the season for the Jacksonville Jaguars is 10. The total sacks for the the Pittsburgh Steelers is 7. But those two teams are some of the worst in the NFL right now so I guess that doesn't mean too much. But let's take a look at the league average sacks through the first six games: 16.75. The Chiefs total sacks on the season is 31. That is 2.5 sacks less than double the league average. That is pretty damn impressive, but it only gets better.
With the Saints allowing 23 points, only one team has yet to give up 20 points in any game this year: the Kansas City Chiefs. @NFLRT

— Justin Henry (@JRHWriting) October 13, 2013
Through six games we haven't allowed a single team to record more than 20 points against us. Now the true test will obviously be whether or not the same can be said against a Denver Broncos offense that is the best in the league, but we still have some time to prepare and get some players back from injury (like Brandon Flowers) so I am not overly concerned. Looking at our home game against Peyton Manning's offense last year we held the Broncos to only 19 points most of which came from field goals. While our game at Denver was a blowout, it was week 17 and we had obviously given up on the season already. It will be interesting to see how this much improved Chiefs defense does against a Denver offense that has the additional weapons of Wes Welker and Julius Thomas (Who was injured much of last season).
Sacks and points allowed aren't the only places where the Chiefs are dominating the league. We are currently leading the league in turnovers with 10 interceptions (3 of which were returned for touchdowns and all of them totaling for 193 yards) and 5 forced fumbles with 8 total fumble recoveries (1 of which was returned for a touchdown).
Another fantastic thing happened in Arrowhead this Sunday which only has potential to help our team succeed even more. Move over Seattle we have overtaken the record for the Loudest Stadium in the World.
137.5 decibels! #Chiefs pic.twitter.com/QktgoblmmD

— Rachel (@KCChiefs_Rachel) October 13, 2013
Now the obvious critique about the Kansas City Chiefs is that they have a strong schedule this season, but this is really a straw man fallacy to say that the only reason the Chiefs are winning is because of their strong schedule. In fact there is one other 6-0 team who has an even easier schedule through week 6 than the Chiefs and that is the Denver Broncos. So if you were to grasp to this argument for whatever reason you better hold the Broncos to the same standard.
That being said the Chiefs obviously must improve their offensive efficiency. We're down to our fourth and fifth string tight ends and our offensive line is having some injury trouble. Alex Smith has got to work on his accuracy because yesterdays game vs. the Raiders (and previous games) could have seen a lot more completions had he just been a bit more accurate in his throws.
I can tell you one thing for certain about the future of this season. If folks continue sleeping on the Chiefs and downplaying their success this season they will be sorely surprised when their team faces us in the regular season, playoffs, or even the Super Bowl.
Oh and as a bonus this happened yesterday:


I don't think that there is much in the playbook for a 3rd and 48 situation.
Posted in: Blog